In the 1800s, many people lived in Victorian slum houses. These were often old, run-down buildings that were in bad condition. The rooms were small and there was no insulation, so it was often very cold in the winter and hot in the summer. Often a whole family would live in one or two rooms of these houses.
There was also no indoor plumbing, so people had to use outdoor toilets and baths. Many people would drink and wash with water from dirty streams which were often full of sewage, rats, and rubbish.
Slum housing was often dangerous and unhealthy, and many people died from diseases like tuberculosis and cholera.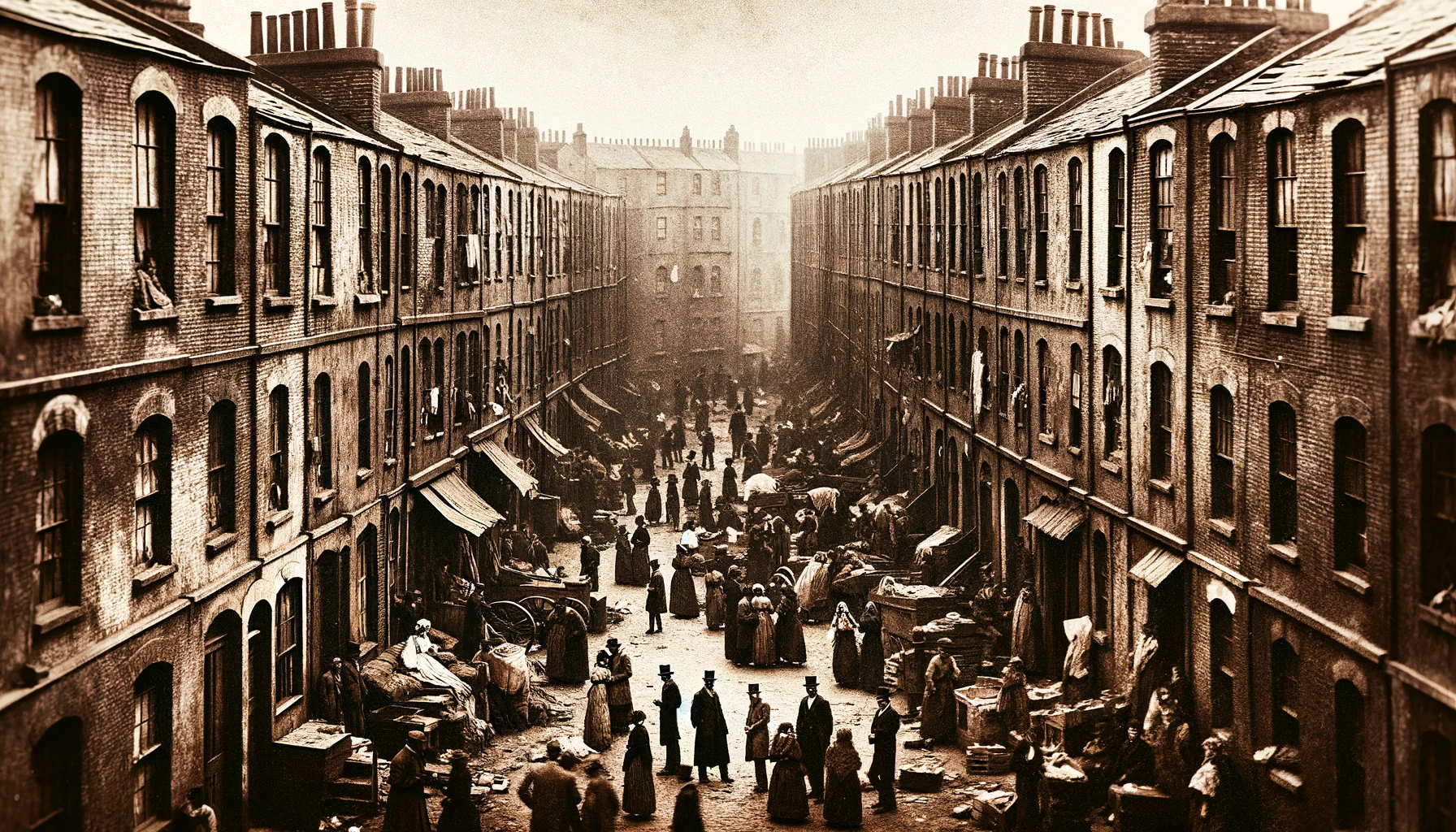 Why Were Slum Houses So Unhealthy?
One of the main reasons for the unsanitary slum conditions was extreme overcrowding. Industrialisation led to a massive influx of people into cities, seeking work in factories. This rapid urbanisation outpaced the development of adequate housing and infrastructure. So many people were forced to live in cramped, dilapidated conditions.
Slum houses were also built quickly and cheaply to accommodate the growing population. Little regard was given for safety or comfort. Basic essentials like clean water were not as easy to access as we can today. Indoor plumbing started to become common in many middle-class households toward the end of the 19th Century. Such a luxury however, would not be available to the poor until much later.
With really poor ventilation and no running water, when one person got ill many more did too. There wasn't regular bin pickups like we have today either. Waste and rubbish were often just thrown into the streets or piled up in communal areas. This also contributed to the spread of diseases.
Life of Children in Slums
Due to the poor living conditions infant mortality was very high in the slums, about 1 in 4 children died before they were even one year old.
Many slum children had to work to help provide for their families, the jobs were often low-paying, highly dangerous, and dirty. Young boys may work as chimney sweeps or clean the streets of horse manure. Girls may turn to prostitution as young as 12.
The rates of crime and violence were very high in the slums and many young people turned to crime to avoid the workhouse. Indeed, between 1830 and 1860, half of all the defendants tried at the famous Old Bailey were aged 20 or under.
Sadly child abuse and exploitation was very common in the slums. The prospects of a child living in these conditions were not good. With little or no education for many it was a life sentence dealt for no other reason than your birth and status. While philanthropists like Dr. Barnardo started work to improve the lives of many children in the slums, conditions remained, for most, appalling.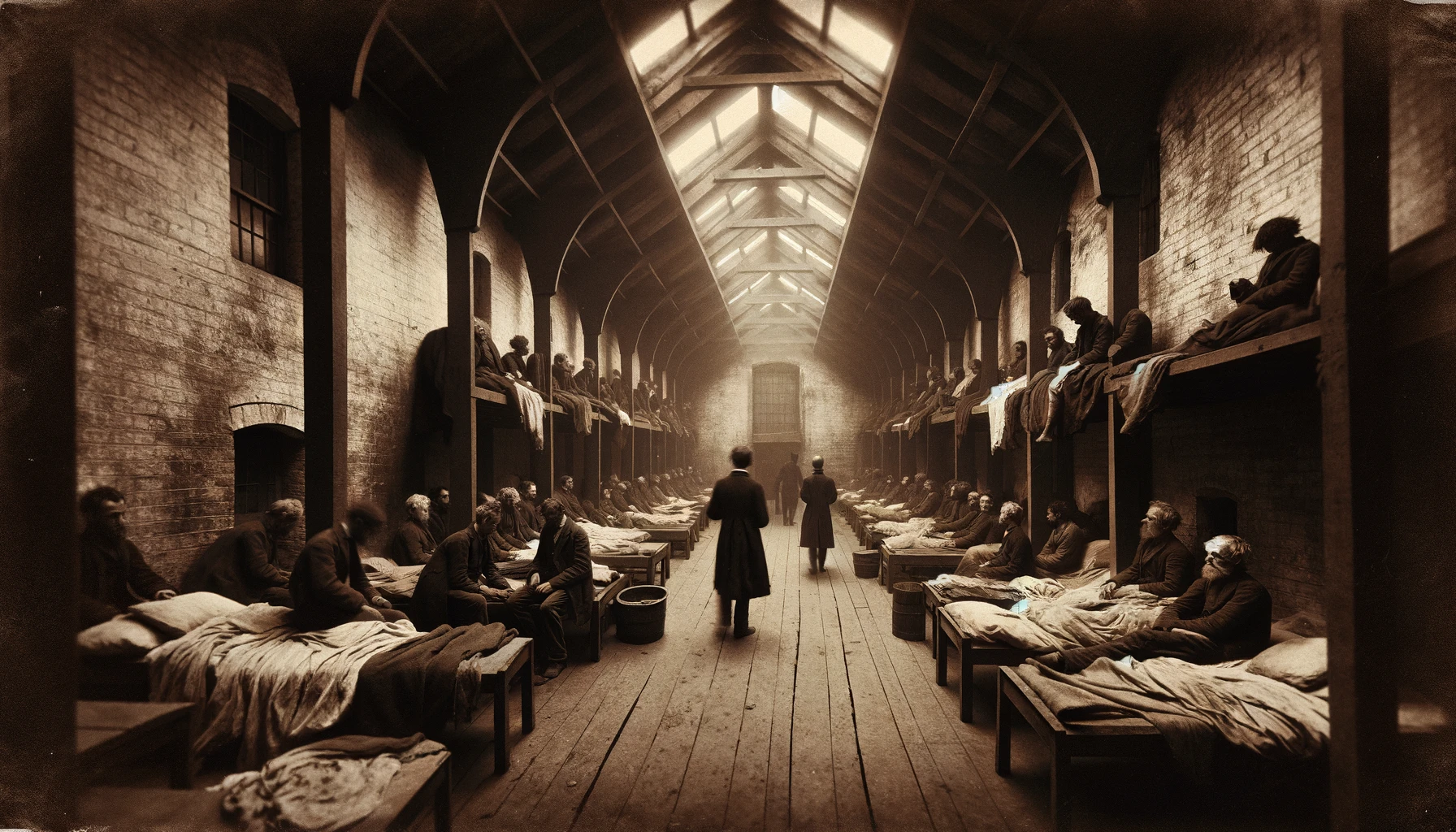 The Doss House
If you could not afford a permanent residence you could sleep in a doss house.
Doss houses were cheap Victorian slum houses, like run-down "hotels" that were often in bad condition. By the end of the 1900s, there were around 1000 Doss houses in London. I use the word "hotel" loosely as often these beds were in old warehouses or factories.
Some of the beds in a doss house became known as a "four penny coffin" as they were purely a wooden box that looked a lot like a coffin and cost four pence per night to sleep in.
A doss house would usually open around 8 pm and kick the residents out at 10 am the next day. They would cost a few pennies per night and were often filled with vagrants and beggars. It's hardly surprising that many of London's homeless just gave up and chose the indignity and cruelty of the workhouse over a life on the streets.
Many Victorians believed that the people living in the slums were drunks, lazy, or had made poor life choices. In reality, most people living in the slums were hard-working and trying their best to provide for their families and get a better life. They were often just unlucky.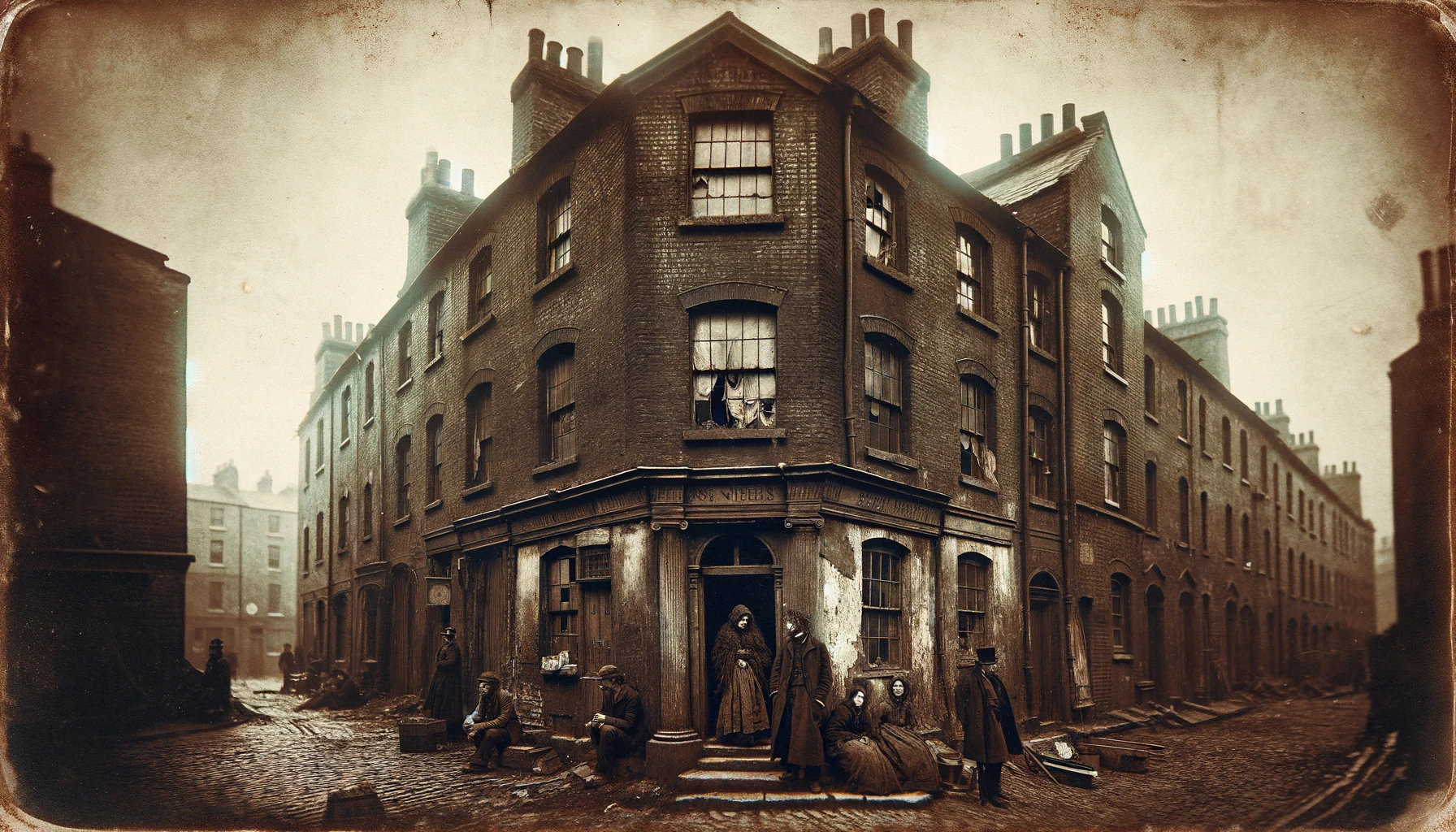 Poverty Tourism – "Slumming"
In the 1870's and 1880's, some wealthy Victorians would go undercover and began to "Slum it". They would visit the slums after dark and even pay to stay in doss houses for fun. Many gentlemen would tell tales to their wealthy friends about the unsavoury people they met and their brushes with violence or death. Slumming became a popular tourism business.
In some cases, the wealthy would even pay a 'guide' for a tour of the slums. This was not restricted just to the UK either. It was common in some American cities during this time too – like Boston and New York.
While this type of Poverty Tourism may have started in bad taste around half a century earlier, it lead to more middle-class and rich Victorians encountering the harsh realities of living in the slums. From this it lead to a growth in campaigning for better living conditions for poorer people in society.