When most people think of the Victorian Era, they think of high society with fancy clothes and ornate homes. What they don't often think about are the professions that were necessary to keep that lifestyle running smoothly.
One such profession was chimney sweeping. They didn't have electricity or fancy central heating systems in this age. Coal, peat and wood were the main sources of heat, fuel and maintaining safe fireplaces was dirty business. Victorian chimney sweeps were an essential part of life in the Victorian Era, and this article will take a look at their history and what their job entailed.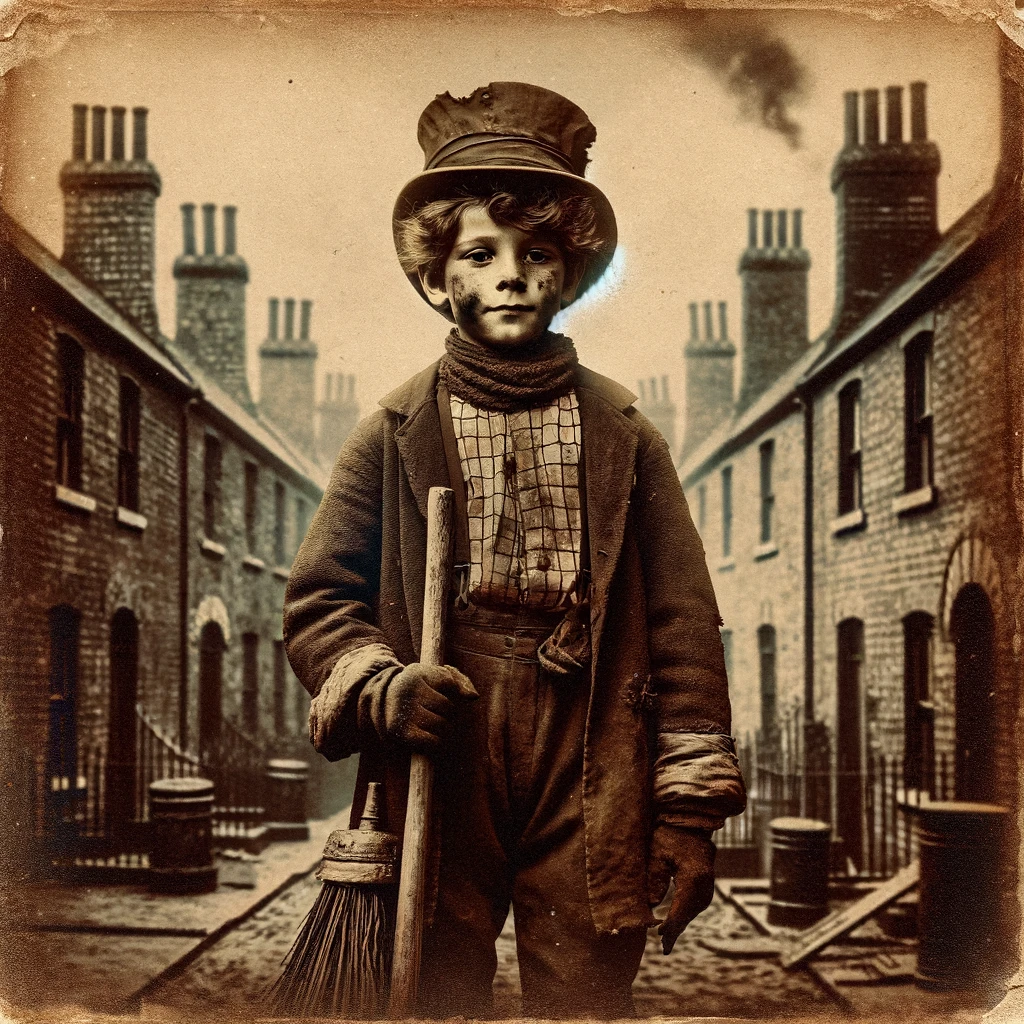 Why Chimneys Need Sweeping?
In Victorian times they did not have central heating to keep their homes warm like we have today. Each room in the house would have had a fireplace to burn primarily coal for heating. In the country, wood and sometimes peat was more common, but in the cities of industry, coal was the main source of fuel.
The main reason that chimneys needed to be swept was because soot and ash from burning coal built up over time. This soot and ash could cause several problems, including:
making the fire less energy efficient
damaging the chimney
causing a fire in the home
Because of these risks, it was essential for chimneys to be cleaned regularly.
Who Were Victorian Chimney Sweeps?
Chimney sweeps were typically men, though they would also employ young boys to help. Both would usually come from poor backgrounds. They did not have much (if any) formal education, so their job was one of the only ways they could make a living. Chimney sweeping was a dangerous job, and it often involved climbing up chimneys, which could be very dirty and dangerous. They wouldn't really have any safety equipment either, and injuries were common.
How Did They Clean The Chimney?
Chimney sweeps would use a variety of tools to clean the chimney. They might use a brush to remove soot and ash, or they might use an air pump if they had one. Some sweeps also used dangerous chemicals to clean the chimney.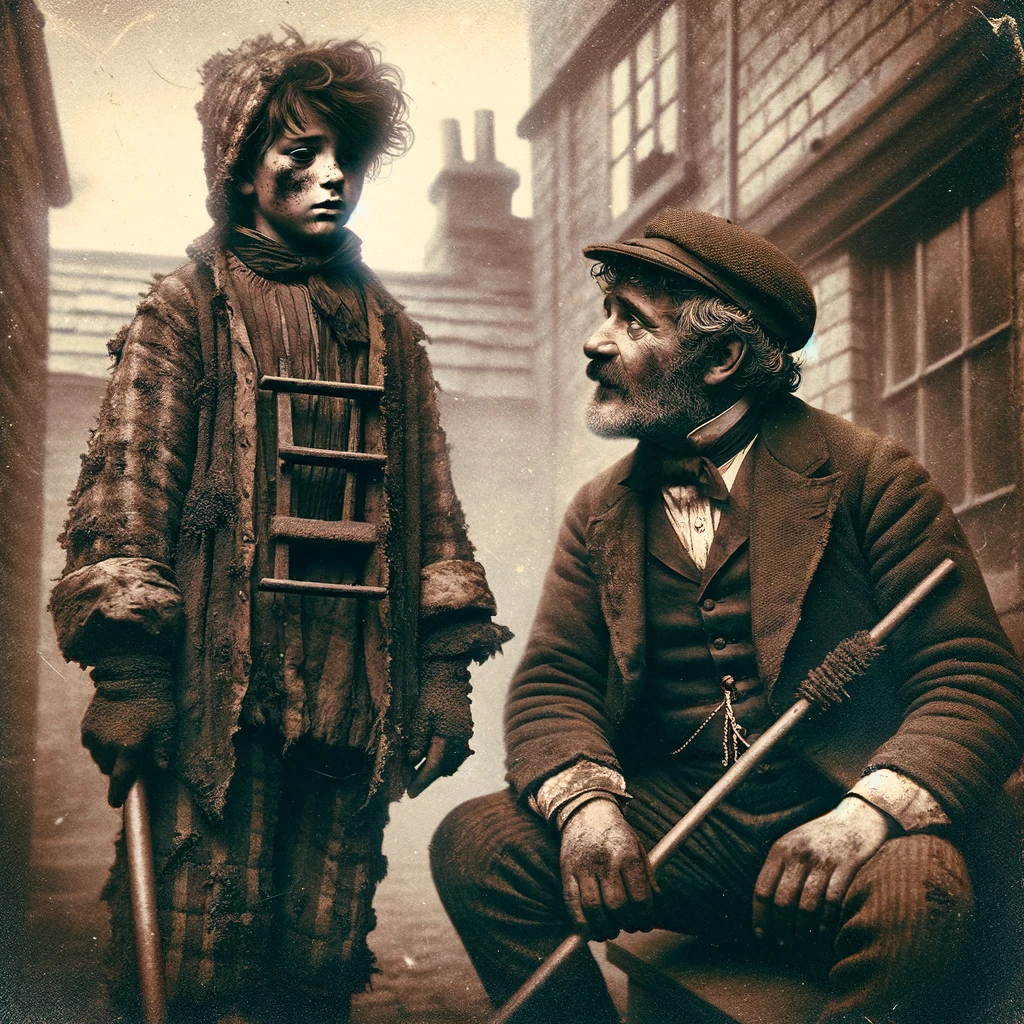 Climbing Boys
The most common method of cleaning chimneys was to send a young boy up the chimney. These boys were typically between five and ten years old (though some were even younger), and they often came from very poor backgrounds.
It is believed that some of these children had been sold by their parents into this profession so that they would be able to earn money for the family's survival.
This method of cleaning chimneys was very dangerous and caused a lot of health problems for these young boys. If the chimney was narrow the boy might have to climb the chimney naked and this caused problems such as burns, cuts, and infections. Climbing up such small narrow passages was also bad for their bones, joints, and developing bodies. They would often end up with twisted spines and ankles and some injuries would compound leaving them with permanent problems.
The soot in the chimney was bad for their lungs and eyes too. Chimney sweep's cancer was a condition that plagued many in the profession because of exposure to all the soot. There was no effective treatment for this back in the Victorian age.
The biggest danger to the climbing boy was getting stuck in the chimney if the boy got stuck he could suffocate and die.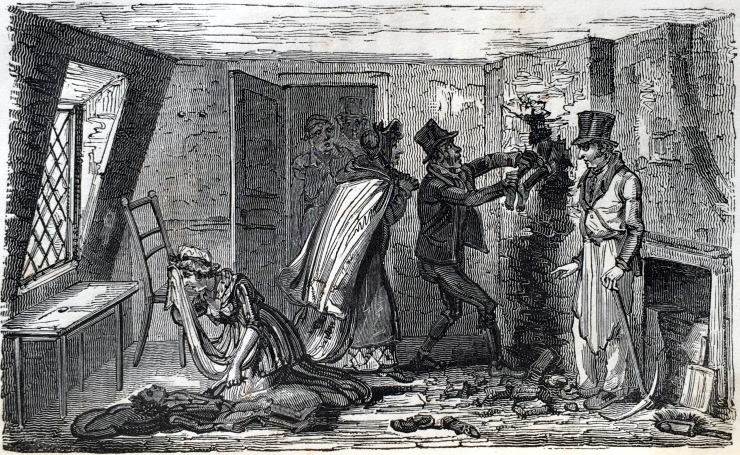 Chimney Sweeps Act 1834
Because of the number of deaths and injuries that occurred from chimney sweeping, an act was passed in 1834 to regulate this industry. The Chimney Sweeps Act 1834 made it illegal for anyone under the age of 14 to climb up a chimney or for a boy under 10 to be an apprentice chimney sweep.
The punishment for breaking this law was three months imprisonment but after many complaints, it was reduced to a fine of 20 shillings.
This Act also made it illegal for anyone who owned more than one chimney to employ an apprentice and it stated that apprentices must be given at least six hours per day off from work as well as two Sundays off every month.
The Chimney Sweeps Act 1834 did not help to stop the deaths of climbing boys, but it did help to improve their working conditions.
In 1840, a revised Chimney Sweeps Act raised the minimum age of apprenticeship to 16. As with earlier legislation, this was largely ignored due to the absence of any means of enforcement. Children younger than ten were still being made to climb chimneys.
In 1863 the publication of 'The Water-Babies', a novel by Charles Kingsley, did much to raise public awareness about the gross mistreatment of children in this kind of employment through its central character, Tom, a child chimney sweep. Parliament responded the following year with a new Chimney Sweepers Regulation Act. This was ineffective despite its humane purpose.
In 1875, a successful solution was implemented by the Chimney Sweepers' Act which required sweeps to be licensed and made it the duty of the police to enforce all previous legislation.
Victorian Chimney Sweep Facts
Children were used as chimney sweeps because they could fit up the narrow chimneys much more easily than adults.
Some Victorian chimney sweeps were as young as 3 years old.
Some bosses underfed child chimney sweeps to keep them thin enough to fit up the chimneys.
Using children as chimney sweeps was not even necessary. The job could be done just as well using a brush.
Children worked as chimney sweeps in England for about 200 years
They had to work very early in the morning until late at night.
Chimney sweeps became popular after the Great Fire of London in 1666 because there were stricter regulations for fireplaces and chimneys.
In 1875, a law was passed in England to stop children from being used as chimney sweeps.
Cite this article
<a href="https://victorianchildren.org/victorian-chimney-sweeps/">Victorian Chimney Sweeps</a>

Stewart, Suzy. "Victorian Chimney Sweeps". Victorian Children. Accessed on December 3, 2023. https://victorianchildren.org/victorian-chimney-sweeps/.

Stewart, Suzy. "Victorian Chimney Sweeps". Victorian Children, https://victorianchildren.org/victorian-chimney-sweeps/. Accessed 3 December, 2023.

Stewart, Suzy. Victorian Chimney Sweeps. Victorian Children. Retrieved from https://victorianchildren.org/victorian-chimney-sweeps/.